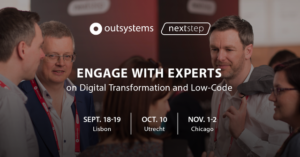 De Business Track van Advanced Programs & IBM gaat over The New Digital Revenue Streams. Op 10 oktober 2017 is Advanced Programs aanwezig als Gold Sponsor bij het NextStep evenement van OutSystems. NextStep is het nummer één evenement voor digitale transformatie en low-code ontwikkeling.
Tijdens het evenement waar veel IT, Dev Managers, C-Level Execs, Business Leaders, Developers and Architects naar toe komen wordt het beste rondom het Low-Code platform van OutSystems bij elkaar gebracht.
Business Track van Advanced Programs: New Digital Revenue Streams

A company with a 25 year history, Advanced Programs has seen more than a few IT fads come and go. But one constant remains – companies continue to rely on their AS400 systems to run the business. In order to modernize these applications and create systems of innovation, Advanced Programs recognized that low-code offers an interesting path forward. A long time business partner of IBM, join both Advanced Programs and IBM on stage and learn how forward-thinking organizations can evolve their core systems and benefit from the innovation that low-code delivers.

Bent u benieuwd naar de hele agenda? Bekijk die op de site van OutSystems.
Onze relaties worden VIP gasten
Het NextStep evenement is al helemaal uitverkocht. Wij willen onze relaties de kans geven om ons te ontmoeten op de beurs en onze lezing te volgen. Daarom mogen wij onze (nieuws) relaties VIP-kaarten aanbieden.