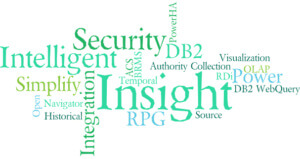 Er is de laatste tijd al veel geschreven door IBM over OS/400 V7R3 de opvolger van V7R2. De engineers van Advanced Programs zijn tijdens een uitgebreide sessie door Peter Croes, de Technical Specialist for Power Systems van IBM geïnformeerd. IBM laat opnieuw zien dat ze nog volop investeren in het platform.
Met OS/400 V7R3 richt IBM zich op:
Simplified Insight
Intelligent Security
The power of intergration
Advanced Programs informeert bedrijven graag over de nieuwe ontwikkelingen. Meer informatie over Managed Services.